WHEN BABY SLEEPS…EVERYONE SLEEPS!
Snoo Smart Sleeper & the Happiest Baby, Inc.
The SNOO Smart Sleeper is sold by Happiest Baby, Inc. that was founded by Dr. Harvey Karp, the world-renown pediatrician and best-selling author of Happiest Baby / Happiest Toddler on the Block. Dr. Karp is recognized with discovering that infants are born with an innate Calming Reflex, which is triggered by 5 steps that imitate the womb—Swaddling, Side-stomach position, Shushing, Swinging and Sucking—the so-called 5 S's. Millions of parents, doctors and hospitals worldwide have turned to the 5 S's to effectively calm fussing.
In 2016, Dr. Karp launched the SNOO Smart Sleeper, a responsive bassinet that solves the #1 parent complaint: exhaustion. SNOO "hears" crying and automatically responds with gradually stronger white noise and rocking motion to soothe fussing. Additionally, SNOO's built-in swaddle prevents risky rolling, making it the only sleep solution that keeps your baby safely on the back—all naps/all night—as recommended by the American Academy of Pediatrics.
Assistive Technology
Now if you are pregnant or have given birth recently you have probably come across the SNOO Smart Sleeper when doing research on the best baby sleepers or bassinets on the market. The SNOO Smart Sleeper is one of the highest rated baby bassinets on the market right now. It comes equipped with technology to assist in lulling your baby back to sleep to help reduce parental fatigue and exhaustion.
Peeping Moms Ultrasound Client Review
Some of our clients at Peeping Moms Ultrasound Boutique, Jordan & Samantha Thomas, who frequented our clinic often throughout their pregnancy recently posted the image above of their adorable daughter Sydney. She's a recent "graduate" of the SNOO Smart Sleeper. This is what Samantha had to say about their purchase of the SNOO Smart Sleeper & the products made by Happiest Baby, Inc. when I asked her if I could use Sydney's picture for this blog. "
it's seriously the best. Yeah, I definitely think we got more sleep because of it. And the peace of mind is well worth it for me."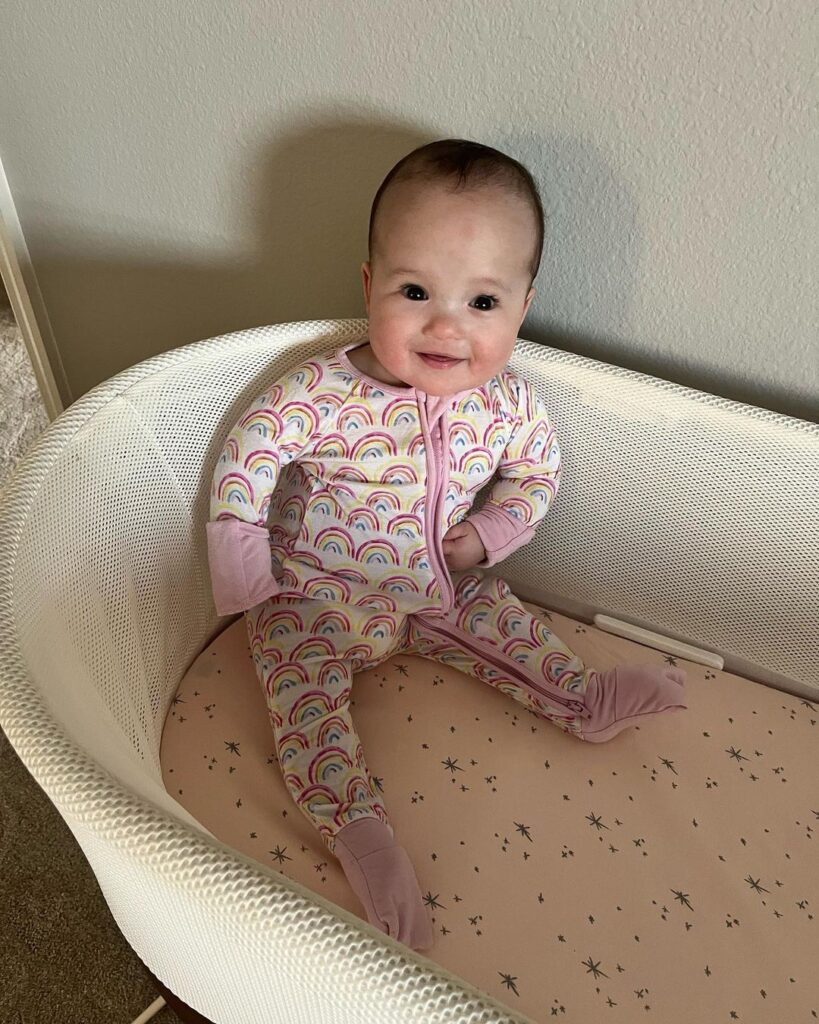 The SNOO Smart Sleeper does come at a cost of course. But more parents than just Jordan & Samantha Thomas find that the price is definitely worth it. You can read more reviews and thoughts regarding the Happiest Baby, Inc. on Good Housekeeping.
Cost & Options of the SNOO Smart Sleeper
The SNOO Smart Sleeper comes with a price tag of $1695.00. If that seems a little out of your price range, they actually now have offered a rental program! For literally just dollars a day, you too can have more rest and peace of mind with giving your and your baby the best possible sleep. Currently, they have two options for their rental program, $159/month or sign up for a 40% savings with a 6 month commitment of only $99/month.
Find out more on how you can
*Some links in this blog are to affiliate sites that we may receive compensation from*