We offer early pregnancy confirmation ultrasounds at Peeping Moms Ultrasound. Typically these scans are done in an OBGYN, Midwife or Ultrasound clinic during your first visit.
Sometimes it is hard to get into your OBGYN or Midwife in a timely manner. For this reason we offer early pregnancy ultrasounds to help give expecting moms that peace of mind.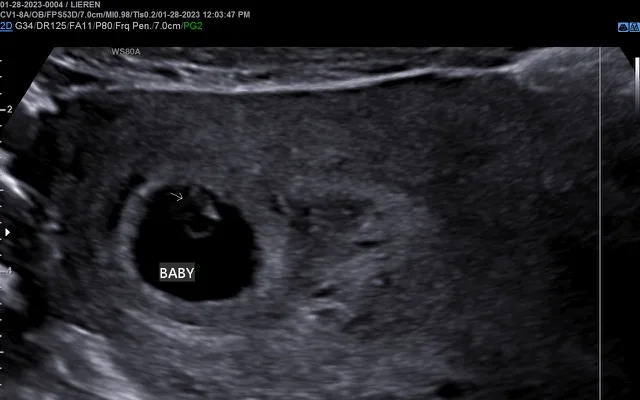 Do I need an order from my doctor?
Not for our Peeping Mom service. If you book our Peeping Mom service, we can provide you with peace of mind by showing you the development of what's happening within the womb. This early pregnancy scan is perfect for expecting moms who want to see what's going on inside of the womb at 6 weeks.
Diagnostic ultrasound services are available and would come with a report for your provider. Offering our diagnostic services in trans abdominal as well as trans vaginal. Our 1st trimester diagnostic ultrasound is only $99 for our cash pay clients.
What is seen on a 6 Weeks on Ultrasound?
Gestational Sac
Fetal Pole (Baby)
Baby's heartbeat – using M-Mode – This is the safest way!
Yolk Sac
Number of babies
How big is my baby at 6 weeks?
Your baby is roughly 1/5 – 1/4 of an inch. That's the size of a sweet pea. A Sonographer measures the baby by measuring from the crown to rump, also known as CRL or crown rump length. This is the most accurate way of dating pregnancy.
Check out this 6 week ultrasound on our YouTube channel!
Can I see a heartbeat on a 6 week ultrasound?
Yes! In most cases, we can see a baby or fetal pole's heart beating on an ultrasound. A normal heart rate at 6 weeks pregnant is 90-110 beats per minute.
Follow us on social media for more information, fun updates and specials!
http://www.peepingmomsultrasoundboutique.com