13 Things Moms Should Know About Ultrasounds
Pregnancy presents itself with so many emotions. Having your first ultrasound will ignite feelings of excitement as well as nervousness and anxiety. First-time mom? Not really knowing what to expect or 3rd-time mom…the feelings are all generally the same. At Peeping Moms, we perform your services by an educated and trained Sonographer that is here to make your experience magical!
We have accumulated the top 13 things you should know about pregnancy ultrasound to give you a better idea on what services are available and what you can expect.
1. Ultrasound basics
In general, ultrasound provides a ton of valuable information about the well-being of your baby. Ultrasound work by creating images using a camera or transducer producing sound waves that then travel through your body, bouncing off of your organs and coming back to the transducer to create the images we see on the screen.
2. 1st Trimester Ultrasound
Typically first performed between weeks 7-10, will be the foundation for determining how far along you are. We measure your baby during your first trimester and performing what's called a CRL or Crown Rump Length gives the most accurate depiction of your due date.
3. A 2D ultrasound
The most commonly type of ultrasound used is 2D. This is your typical black and white images that you see medically and electively. We offer our 2D ultrasound service for only $69 named appropriately the Peeping Mom. Our Peeping Mom service offers our first trimester moms a great way to confirm pregnancy as well as check on what's going on in your womb. We give your clients an education breakdown of what is going on inside of your body at that time. We offer our services as early as 6 weeks, but if you schedule earlier and we don't see your baby's heartbeat due to earlier dates, we will reschedule you free of charge.
4. Gender Determination on Ultrasound
If you are at least 15 weeks pregnant, we can determine the baby's gender on ultrasound. We know that your baby's gender is an important factor for most families. There is so much planning that revolves around whether the sex of your baby is male or female. Our Peeping Mom service is bookable for gender determination.
5. 3D ultrasound
3D ultrasound is the first option of being able to get a look at your baby's features in the womb. The ultrasound machine receives sound waves just like the 2D, but in multiple planes. This gives us the ability to view the images in a volumetric manner. Seeing your baby's face for the first time is priceless. Being able to see your baby's face creates an even stronger bond between mother and baby. 3D imaging is also an amazing way to connect your family member with your pregnancy, creating memorable moments for everyone! Peeping Moms offers our 3D ultrasound called Peepin'.
3D ultrasound is not covered by insurance unless it is medically warranted.
6. 4D ultrasound
4D ultrasound is just like 3D, except it's done in real-time! That's right, you can view your little one as he or she is yawning, sucking on their thumb, or flexing some muscles for us. Watching your baby blow kisses and interact with the noises and actions that are going on outside of the womb is an absolutely amazing experience! We use our state-of-the-art Samsung machine to view your baby's movements and actions inside of the womb, all in real time.
7. 5D/HD Ultrasound
Peeping Moms prides itself on having the latest, up-to-date technology in the ultrasound industry. 5D & HD ultrasound is the same technology, just branded differently based on the manufacturer of the machine. This technology gives us even better imaging than our 3D counterparts. The amount of detail and ability to contrast the baby's features and surroundings makes her look almost realistic.
We provide these images in high definition, electronically, to give you the ability to share and save them for a lifetime! Booking our Peep Show Ultrasound service is an awe inspiring experience that should be shared with the whole family!
During our 5D Peep Show session at Peeping Moms Ultrasound Boutique, we also provide the 4D experience as well. Giving you and your family the most amazing view into your womb.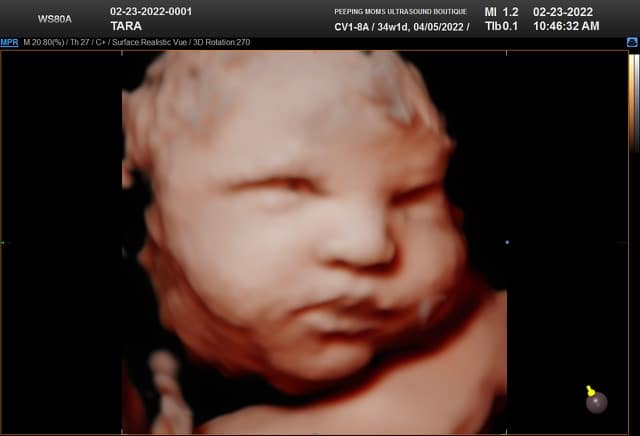 8. Risks of Ultrasounds
Ultrasound comes with no risk to mom or baby. Ultrasound is actually the preferred modality of imaging in most cases due to the fact that there is absolutely no radiation involved.
9. Book as many sessions as you'd like
With the perk of ultrasounds being no risk to mom or baby, you are able to view your baby as often as you'd like. While we know that the number of ultrasounds provided by your doctor or medical provider's office if very limited, most of that is due to insurance costs and staffing. In fact, it's common practice in other countries that a quick ultrasound is done at each office visit, just for a quick check on baby's wellbeing. This is where Peeping Moms Ultrasound Boutique comes into play. For peace of mind, we are here to offer our services to expecting moms and families as often as they would like to view their baby.
10. How long are appointments
Peeping Moms Ultrasound Boutique books all of our services in 30 minute appointment slots. We do not feel the need to rush through our services like most other clinics do. We want our expecting moms and families to receive the full experience.
11. Why would I need an ultrasound?
Medically, ultrasounds are generally performed for dating pregnancy, anatomy & overall wellbeing of you and your baby. The information specifically obtained during your diagnostic medical ultrasound is very important for the journey of your pregnancy.
12. BENEFITS OF HAVING AN ELECTIVE ULTRASOUND
There are some wonderful benefits of having an elective ultrasound done. There is research that shows having regular ultrasounds reduces anxiety and stimulates bonding between mom and baby. Being able to actually see that your little one's heart is beating and they are bouncing around in there give you a sense of relief. Also, including family members helps to create a strong bond between dad and baby as well as siblings and baby. Decreasing stress and anxiety in an uncontrollable situation is beneficial for mom & baby.
It's an amazing experience and a great opportunity to get to know your baby before they are born.
13. Creating a unique and memorable experience
Each and every ultrasound throughout your pregnancy is going to be unique. Your baby is on a continual journey of growth and development and giving you a view into your womb is an amazing way to get the full experience of pregnancy. The ability to see growth and change through each phase is an amazing way to capture each part of your pregnancy journey.
Peeping Moms has created a relaxing and intimate environment with trained professionals to give you that unique and memorable experience you deserve. When choosing where you are going to have your elective ultrasound services performed, make sure the center you choose has professionally educated and trained personnel that can provide you with the best and safest experience available!
You can find examples of more of our images on our website , our Facebook page, instagram or Pinterest.