What is prenatal massage?
Prenatal massage uses techniques similar to those during a Swedish, but with modifications to accommodate for the safety and wellbeing of you and your baby. Prenatal massage is performed by a licensed therapist that also goes through additional education and training to be able to provide massage to expecting moms.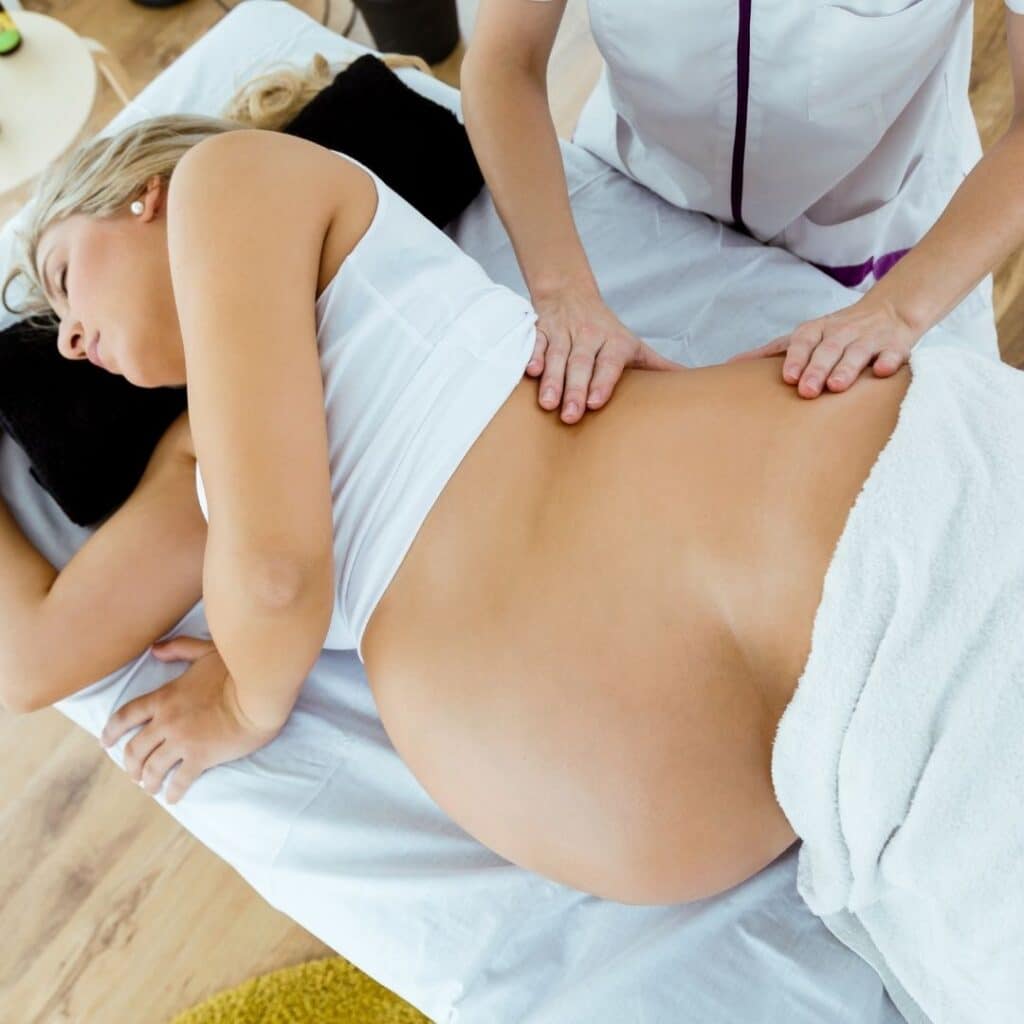 When can I have one done?
You can actually schedule a service through any part of your pregnancy. It is safe to schedule during your 1st, 2nd and 3rd trimester of pregnancy. Although many clinics and spas will not schedule an expecting mom until their 2nd trimester, there is no indication that a massage cannot be performed during your 1st trimester.
Depending on how far along you are will depend on the modifications that need to be made to ensure you receive the most comfortable and safe massage experience.
Book your Prenatal Massage at Peeping Moms Today >>
Benefits
Pregnancy creates a lot of changes inside of your body, many times causing physical stress and strain on certain areas. The further in pregnancy you are, the more uncomfortable it tends to get. Here are a few benefits of having regular massages done:
Reduce anxiety
Reduce stress
Relieve muscle tension
Decrease symptoms of depression & anxiety
Relieve muscle aches & joint pains
Improve labor outcomes & newborn health
Mood regulation from stress relief
Reduces swelling from the strain on your circulatory system
Reduces nerve pain from areas such as your sciatic nerve
To read more about the benefits of massage therapy during pregnancy, read this article from the American Pregnancy Association.
Peeping Moms Ultrasound Boutique provides massage therapy services to our moms. Our therapist is trained, educated and experienced in providing prenatal massage therapy for our clients. She takes her time to listen to your concerns and works on the areas that are in need of relief. For only $69, we offer a 1 hour prenatal massage. If you are available for services on Thursdays, we also offer a package of our 1 hour prenatal massage as well as a 5D ultrasound for only $139!
Looking to perk up your prenatal massage a little more? We also offer belly and foot scrubs as an add on service as well.
Peeping Moms Ultrasound Boutique also offers services for those who are not expecting. We offer Swedish as well as deep tissue.